Description
About:
A Fibonacci indicator is best used with other indicators like Pivots, Support/Resistance etc.
Price tends to use Fibo levels as Support or Resistance lines.
Therefore, this indicator is very useful to know when price might reverse. Or if a level is crossed, price might continue the trend.
Also, to find the best Take Profit and StopLoss lines.
Don't use Fibo Indicator alone for trading as it might not always be accurate. Use it to make your strategies better as a supporting indicator.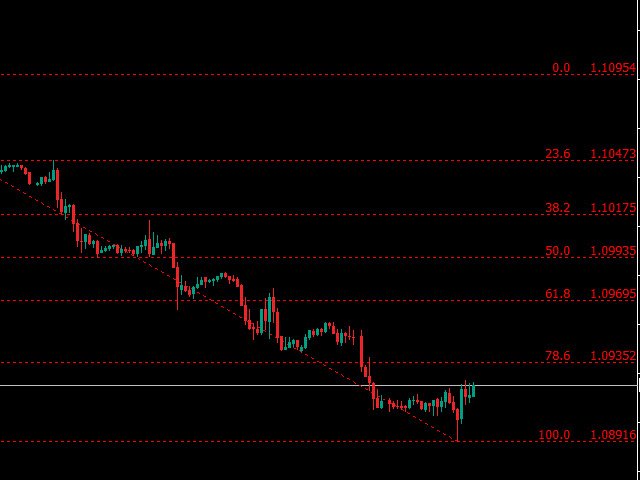 Fibo Levels:

Fibo Show Levels: Fibo Levels to be shown on chart.

Fibo Mark Levels: Fibo levels for detecting when a level is crossed.
Golden Zone Levels: Price has greatest volatility in the Golden Zone. You can define your own zone:

Default golden zone colors work best for a darker background. For a lighter background use something lighter.
Settings:
High/Low Detection:
Auto Fibo Indicator plots Fibonacci Retracements by automatically finding high and low price points using:
Set: ZigZag_Depth, ZigZag_Deviation, ZigZag_Backstep
Set: Period_1,2,3
Using these settings an auto Fibonacci retracement is drawn. Red Fibo means current trend is bearish and Green Fibo means trend is bullish.
Golden Zone:
You can also specify a golden Zone: GoldenZone_Start_Percent and End_Percent
And indicator will mark Golden Zone when price enters inside it.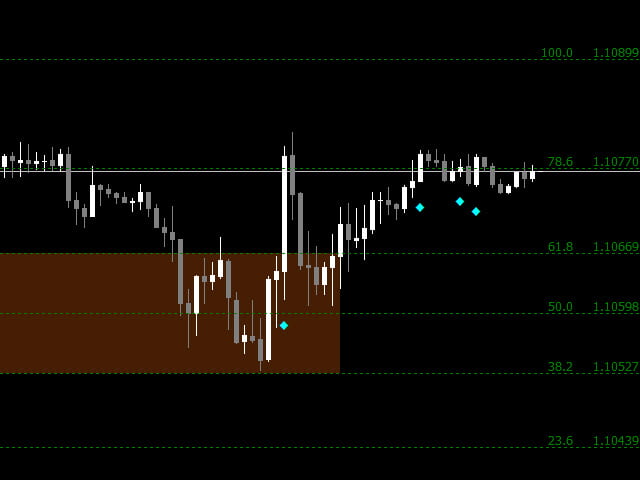 Comma Separated Levels:
FiboShowLevelsStr = "23.6,38.2,50,61.8,78.6"
Fibo Levels to Show on chart. By default 0 and 100 levels will be show. Specify all other levels you want to see as comma separated values.
Fibo Levels to Mark with a diamond when price crosses that level.
Price Cross Direction:
Specify direction from drop-down:
WithTrend, WithRetracement, WithBoth
If you like to trade only Trends select WithTrend, If you want to trade retracements specify WithRetracement.
However, try not to use WithBoth as that will give too many signals.
Blue Diamond: Price crossed a Marked Level Towards Trend
Orange Diamond: Price crossed a Marked Level Towards Retracement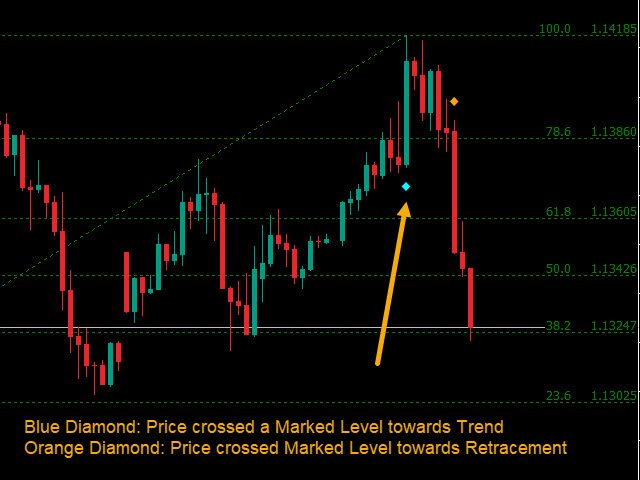 Changelog:
v1.8 Fixed bug fibo not working properly when using 3LZZ points
v1.9 Added option to hide 0 and 100 levels
Added MaxPastBars – so 3LZZ won't have memory errors