Description
About Scanner:
Scanner is also available here:
https://www.mql5.com/en/market/product/81656/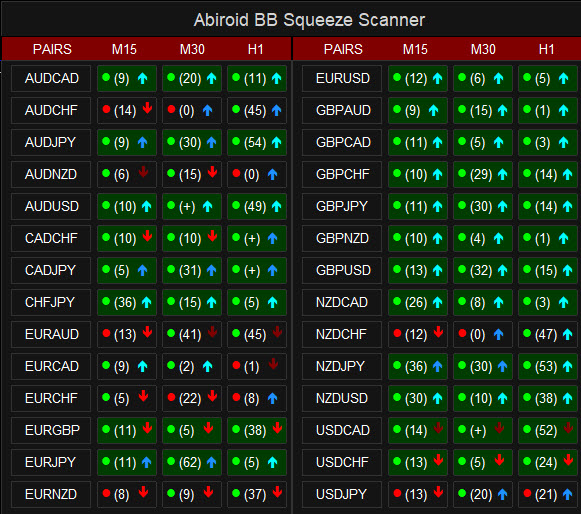 BB Squeeze Scanner uses bbsqueeze.ex4 in background to calculate when BB Squeeze (Bollinger Bands Squeeze) happens and when BBands expand.
What is Bollinger Bands Squeeze:
The Bollinger bands squeeze is a special pattern when the volatility of a market decreases after trending periods.
It is generally observed the price is ranging during this period until a new trend starts and the volatility increases again.
To identify this pattern, we use the Keltner channels.
And look for the moment where the Bollinger bands are between the upper and lower bounds of the Keltner channels.
You can read more about Bollinger bands and Keltner Channels calculations here:
https://medium.com/superalgos/a-quantitative-study-of-the-bollinger-bands-squeeze-strategy-9f47143f33fb
Settings:
Scanner specific settings and Alert settings: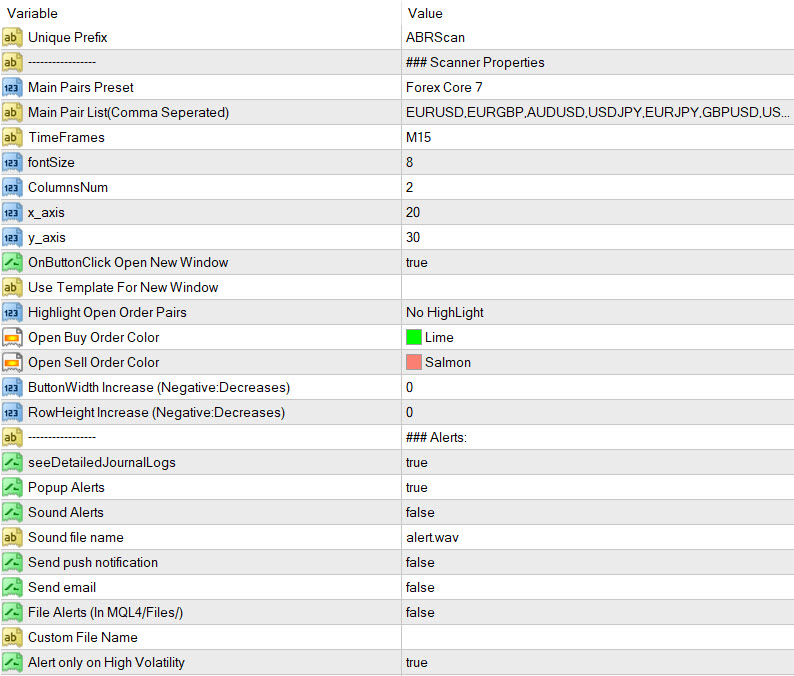 You can read about all Abiroid Scanner Common settings in this blog post:
Abiroid Scanner Dashboard Common Settings
Bollinger Bands and Keltner Settings: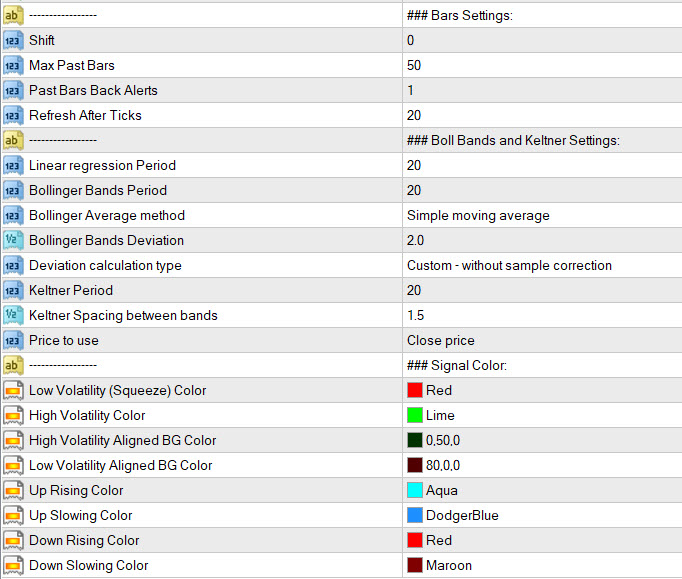 Shift: Starting bar to scan
Note: Shift 0 means current bar which is still forming. And while price moves, the BB Squeeze values might change and you might get multiple alerts.
So, if you want it non-repainting, keep Shift 1.
Max Past bars: Maximum bars to scan
If BB Squeeze red or green has continued from before Max Past bars, then scanner will show bracket value as (+)
Refresh After Ticks:
Scanner will refresh every new bar, and after every given number of ticks.
How Squeeze is calculated:
Bollinger and Keltner settings are used to calculate the Bollinger Bands and Keltner channels.
And if bollinger bands are inside Keltner channels, then BB Squeeze is red. Meaning price is ranging.
If Boll bands are outside Keltner channels, then BB Squeeze is green. Meaning volatility is high: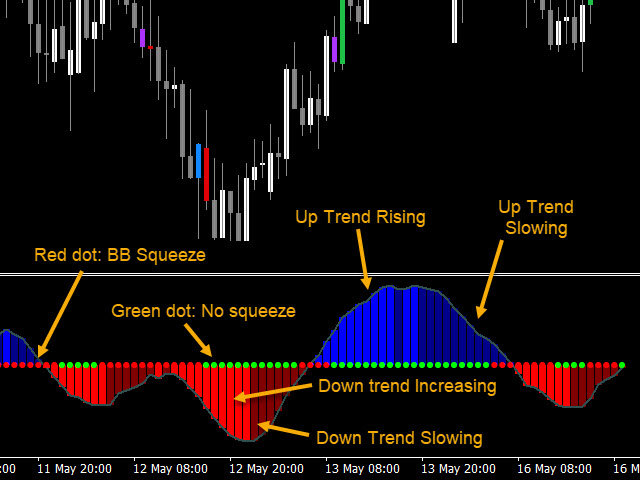 Above image shows the histogram from bbsqueeze.ex4
It shows all elements that the dashboard will display.
The Histogram is Blue for when price is Trending upwards and Up trend is rising. Dark blue shows that trend is slowing and ending soon.
It is Red for when price is Trending downwards and Down trend is increasing. Maroon shows that down trend is ending soon.
And the scanner will show all these values like this: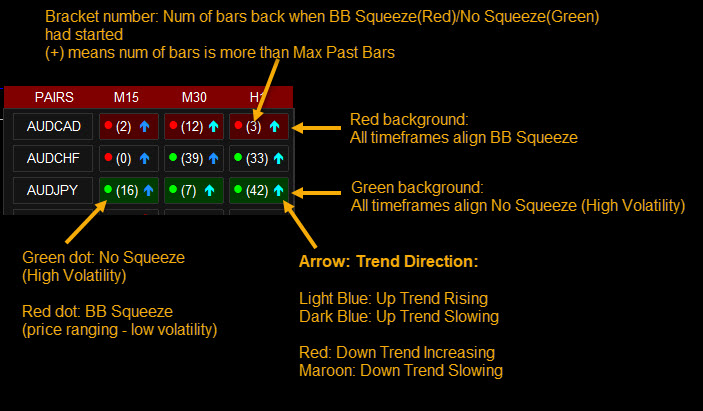 Best Trades:
If you are following a Trend based strategy, try to make sure that timeframe you are trading and next higher timeframes are aligned with Green background.
Meaning no BB Squeeze and volatility is high. Best time is when No squeeze (Green) has just started a few bars back. And price trend Up/Down has also just started.
So, make sure that Arrow does not indicate that trend is slowing. Meaning arrows are not Dark Blue or Maroon.
This scanner is a validation tool. Best used with your existing trend based strategy. To provide to you the best times to trade.
Because different trading pairs will be more active during different times of the day.
It's not to be used as a standalone strategy.